One of the most important goals of Afvalzorg's foreign policy of is to reduce the negative impact of landfills on the environment. Guiding the transition towards sanitary landfilling or even transforming them into beautiful and useful landscapes are among our key areas of expertise.
When improving environmental standards at a landfill site, the following main phases can be defined: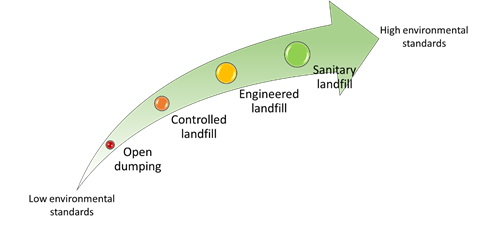 The main topics dealt with in improving landfill management are:
Improvement of waste acceptance and handling procedures
Groundwater and surface water protection
Landfill gas management
Worker safety training and operational procedures
Long-term economic considerations
Implementing closure and after-care procedures
Correct management of hazardous wastes
Whether upgrading an existing dump site/landfill, or starting a new landfill site, the transition involves numerous challenges. Afvalzorg has a lot to offer in this, and can assist in successfully improve landfill management.