The Schoteroog landfill used to be an old municipal dumpsite near the city of Haarlem. Due to the fact that the site does not have a bottom liner, contamination leached into the neighbouring surface water and groundwater. As the local authority did not have the financial reserves for the remediation of the site, Afvalzorg took the decision to take over ownership of the site, remediating and redeveloping it into a multifunctional recreational park.
Remediation measures
The first step towards making the landfill site suitable for its intended use was taken in close collaboration with all stakeholders. As the area is surrounded by water and located close to the city of Haarlem, redeveloping it into a multipurpose recreational park was considered the most favourable option.
Once the redevelopment plan had been drafted, Afvalzorg put the landfill site back into operation, using incoming waste materials to shape the area into its present form. We the implemented the following remediation measures:
Installation of a non-permeable vertical cut-off wall surrounding the landfill to prevent further release of contamination from the site
Installation of deep-well pumps to lower the hydrostatic pressure inside the cut-off wall.
Installation of a top cover, incorporating a geosynthetic membrane and a Geologger monitoring system to detect any leaks in the geosynthetic membrane itself.
Installation of a landfill gas capture and upgrading system (converting the gas into LNG/CNG).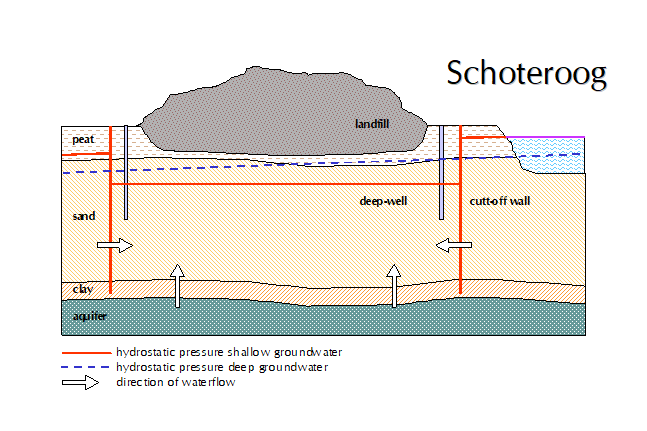 Multi-purpose recreational park.
Following the implementation of the remediation measures, the site was transformed into a versatile multi-purpose recreational park with walking, cycling and horse-riding trails. A marina and restaurant have been constructed at the water's edge, and the site contains playgrounds and a viewpoint overlooking the surrounding countryside. The site also has four wind turbines generating renewable electricity.
Afvalzorg is responsible for the aftercare of this landfill site.